Born from a dream of one man, Wicus Diedericks, Rockwood was transformed from a cattle and sheep farm into over 12 000 hectares (30 000 acres) of land dedicated to the protection of wild rhinos and endemic species.
We take an aggressive stance to rhino conservation. While living under 24-hour security surveillance is not how rhinos would typically live in the wild, it is our best bet in keeping them safe from their biggest threats: expanding human settlement and agriculture, unchecked illegal poaching, and human apathy.
We now have 300+ Southern white rhinos in our care and have celebrated more than 130 births – making us one of the world's largest and most successful private rhino conservation projects.
This all happened to 2013. We are serious about our mission.
Today, we are successfully offering our rhinos protection against poaching and extinction. We focus on breeding programmes, and invest in further research. We share our passion by offering volunteering programmes, and by inviting visitors to the farm to experience these majestic animals – with their horns still intact, up close, like you can experience no-where else.
"Had it not been for the efforts of private rhino owners to protect and breed rhinos,
the Southern white rhino would be extinct today."
Earl Duiker, Rockwood Security
WE ARE PASSIONATE ABOUT OUR MISSION
Rhino horn poaching is a cruel and senseless act. The horns are made from keratin – meaning they are akin to fingernails and not worth the vast sums paid for them. But aside from this fact, there is an even bigger picture. Saving the wild rhino is also crucial to conserving Africa's ecosystems and, consequently, Earth's habitability for humans.

The rhino is a keystone species, which means other species depend on them for their survival. Their disappearance will set off a chain of events that will change the structure and biodiversity of the environment irrevocably.

It is estimated that rhinos will completely disappear from national parks and reserves within the next ten years. It's up to private owners and personal involvement to make a difference. We are passionate about this. Rockwood might have started as one man's personal dream project, but it's now involving a huge number of staff members, volunteers, researchers, and donors who all strive to save one of South Africa's most majestic animals from extinction.
WATCH OUR SUCCESS STORIES
Our reserve is located in the vast, untouched Northern Cape province of South Africa – somewhere close to Kimberley and Griekwastad.
Nestled between the Great Karoo and the Kalahari, on a pristine, secluded 12 000 hectare (30 000 acre) stretch of arid to semi-arid desert and bushveld, this is precisely the kind of habitat rhinos would have roamed for millennia.
Complementing our state-of-the-art private security, we are remote enough to be less easily accessible to poachers.
Our exact map-pinned location cannot be publicly advertised – for obvious security reasons.
5-STAR SAFARI LODGE FACILITIES
Our 5-star safari lodge offers four luxury, air-conditioned villas, which can accommodate a maximum of 22 guests, as well as volunteer housing (which can accommodate 12 volunteers) – with a private lounge and dining area, boma and fire pit, as well as full bar and restaurant.
The lodge is fully family-friendly, and also offers an on-site spa, gym, swimming pool and curio boutique. We even have wifi, although our location is so remote.
Our luxury accommodation facilities seem in stark contrast to our conservation efforts, which require constant donations. It's important to understand that the contributions towards the conservation of our rhinos are applied to our wildlife only.
The lodge was privately built in an extended effort to attract visitors (tourists, researchers and volunteers alike) to our remote area – offering them a comfortable stay, in order to enhance the chance of them returning and supporting us further in our main mission:  to protect our rhino herd and the species from poachers, and inevitably extinction.
The lodge is unfinanced. Income generated from accommodation bookings, safari tours, and eco-hunting is utilised to help cover the huge expense of feeding, caring, and 24-hour security of our rhino herd.
Aside from being home to 300+ protected rhinos and boasting a five-star safari lodge, our reserve also hosts a wide variety of animals, who would naturally share their habitat with rhinos. From plains species to predators, our conservation reserve is a real haven for African wildlife – most of which you'll be able to observe from up close.
Because our rhinos are so well protected here, Rockwood is also one of the very few places where you'll be able to still see a rhinoceros with its full horn.

Close-Up Game Viewing
Experience Private Game Viewing Up Close & Personal
Professional Guides
Knowledgable Staff & Personal Interaction with Rockwood Owner
Wildlife Interaction
Touch & Feed Our Rhinos, Like No-Where Else
Luxury Villas & Cottages
Interact with Raw Nature, yet Sleep Comfortably in Style
Earthy Experiences, Modern Luxuries
Rooms with Air-Conditioning & Wifi
Private Lounge & Dining Area
Luxury Africa-Themed Entertainment Areas
Fine Dining
Bar & Restaurant with Game Meat Available
On-Site Chefs
African Food Prepared Freshly to Your Liking
Spa & Gym
On-Site Spa & Gym Facilities
Boma & Fire Bowl
Night-Time Relaxation the African Way
DEDICATED RANGES FOR TOP-CLASS SECURITY
We cannot dare to spare security expenses. We employ 25 vigilant rangers who are on 24-hour security – on horseback, quad bikes and from watch towers.

Apart from food and care for our rhinos, donations also go towards maintaining our state-of-the-art human and electronic security systems, and keeping our rangers kitted out and on their horses.
Rhino carers (which include permanent staff members and volunteers) hand-rear orphaned newborn rhinos and bottle-feed them every two hours. Their feeding and care is a full-time job.
This is critical in preventing rhino extinction, because every rhino born adds to their dwindling numbers. We love them like our children.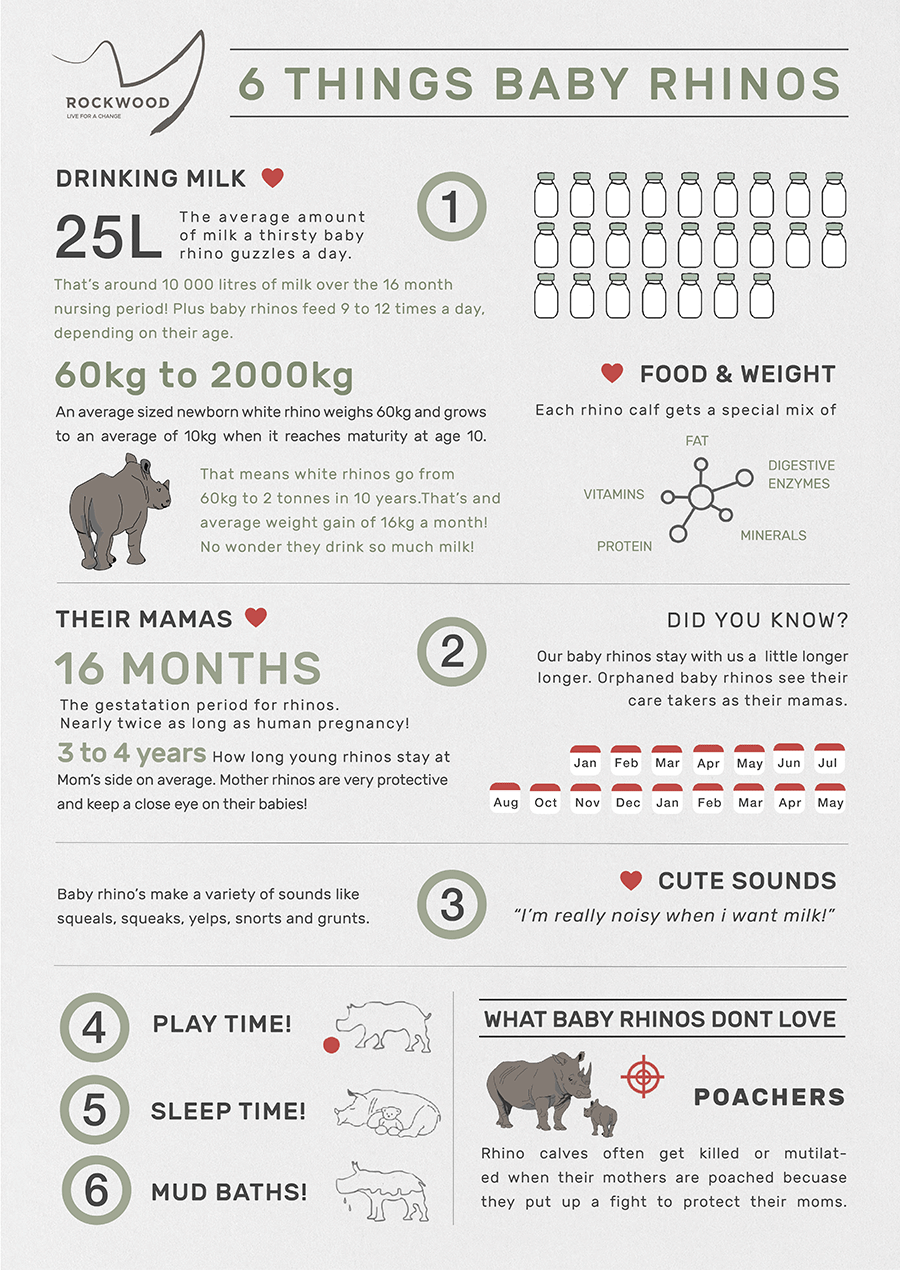 Helping Our Rhinos
Have More Babies
Repopulation is key to saving the Southern white rhino.

Since our establishment, we've celebrated the birth of 160 calves. Our annual repopulation rate is double what is in the wild – making us one of the world's largest private rhino conservation projects.
FOUR WAYS YOU CAN HELP SAVE THE RHINO
Apart from inviting volunteers and researchers to our secluded rhino conservation, we are also open to members of the public – for the purpose of creating conservation awareness and required funding to further the protection of our herd and South Africa's rhino species as a result.
Our facilities are family-friendly and open to tourists who wish to view our rhinos and other wildlife from up close, and even interact with our rhino babies.
Hunters (of our other wildlife) offer a valuable income stream, and help to balance the numbers on the farm, in order to ensure sustainability of our projects.
Contact us for any hunting concerns and more information about how controlled, eco-hunting is directly, positively contributing to our rhino conservation mission.
An adult white rhino eats up to 55 kilograms (120 pounds) of grass per day. We have a herd of 300+ rhinos and need to truck in tons of feed every month. But food alone is not keeping our rhinos alive.
From sponsoring an orphaned baby rhino to keeping a wildlife ranger on his horse for a month, there are plenty of ways you can play an integral role in wild rhino protection.
Even the smallest financial contribution helps.
We invite volunteers (experienced wildlife volunteers, as well as first-time gap year students) to help us on-site, at Rockwood.
We are the only private rhino conservation facility of our kind that allows this kind of up-close and personal interaction with rhinos.
You'll get to stay with us for two weeks, directly work with our gentle giants, and leave knowing you have physically helped in a great way. It's an experience of a lifetime.
Contribute To Our Research
Sharing knowledge helps us overcome the challenges we're facing in biodiversity and wildlife protection.
We invite masters and PhD students to take up a research opportunity at Rockwood, and further contribute to our phenomenal 15% annual growth in rhino population.
We believe strongly in the exchange of information, and we have so much to share.

We invite universities, companies and private researchers to become part of our ongoing data capturing and data sharing model, so that our collective knowledge can help protect the rhino (and hopefully other wildlife species) from extinction.
Rockwood is a registered non-profit organisation.

We are proud to show our donors exactly where your money goes. Your contribution helps us maintain our security system, care for and feed our 300+ Southern white rhinos, support our hard-working rangers, and more.
YOU, OUR VISITORS, PARTNERS & SPONSORS MAKE OUR CONSERVATION EFFORTS POSSIBLE.​