Experience vast open lands and exquisite African sunsets from the comfort of your five-star villa. Relax, swim, dine and enjoy rare rhino encounters – up close and personal.
Rockwood offers you the opportunity to touch and feed a baby rhino. And take photos of these majestic animals – with their horns still intact.
Whether you're here on a getaway safari, family vacation or honeymoon… Just by being here, you are supporting our conservation work and contributing to saving the rhino.
Our reserve is located in the vast, untouched Northern Cape province of South Africa – somewhere close to Kimberley and Griekwastad.
Nestled between the Great Karoo and the Kalahari, on a pristine 12 000 hectare (30 000 acre) stretch of arid to semi-arid desert and bushveld, this is precisely the kind of habitat rhinos would have roamed for millennia.
Complementing our state-of-the-art security, we are also remote enough to be less easily accessible to poachers.
Our exact map-pinned location cannot be publicly advertised – for obvious security reasons. We will supply directions or arrange a shuttle service upon booking confirmation.
5-STAR SAFARI LODGE FACILITIES
Our 5-star safari lodge offers 4 x luxury, air-conditioned villas, which can accommodate a maximum of 22 guests – with a private lounge and dining area, boma and fire pit, as well as full bar and restaurant.
The lodge is fully family-friendly, and also offers an on-site spa, gym, swimming pool and curio boutique. We even have wifi, although our location is so remote.
Aside from being home to 300+ protected rhinos and boasting a five-star safari lodge, our reserve also hosts a wide variety of animals, who would naturally share their habitat with rhinos. From plains species to predators, our conservation reserve is a real haven for African wildlife – most of which you'll be able to observe from up close.
Because our rhinos are so well protected here, Rockwood is also one of the very few places where you'll be able to still see a rhinoceros with its full horn.

Close-Up Game Viewing
Experience Private Game Viewing Up Close & Personal
Professional Guides
Knowledgable Staff & Personal Interaction with Rockwood Owner
Wildlife Interaction
Touch & Feed Our Rhinos, Like No-Where Else
Luxury Villas & Cottages
Interact with Raw Nature, yet Sleep Comfortably in Style
Earthy Experiences, Modern Luxuries
Rooms with Air-Conditioning & Wifi
Private Lounge & Dining Area
Luxury Africa-Themed Entertainment Areas
Fine Dining
Bar & Restaurant with Game Meat Available
On-Site Chefs
African Food Prepared Freshly to Your Liking
Spa & Gym
On-Site Spa & Gym Facilities
Boma & Fire Bowl
Night-Time Relaxation the African Way
Day 1
Day 2
Day 3
Day 4
INCLUDED
EXCLUDED
OPTIONAL EXTRAS
Day 1
–  Arrival & Lodge Introduction
–  Light Lunch
–  Unpack, Relax & Settle In
–  Late Afternoon "Once-in-a-Lifetime" Rhino Encounter
–  3-Course Dinner in Villa's Boma with Local Beers & Wine
Day 2
Day 3
Day 4
INCLUDED
EXCLUDED
OPTIONAL EXTRAS
Our luxury accommodation facilities seem in stark contrast to our conservation efforts, which require constant donations. It's important to understand that the contributions towards the conservation of our rhinos are applied to our wildlife only.
The lodge was privately built in an extended effort to attract visitors (tourists, researchers and volunteers alike) to our remote area – offering them a comfortable stay, in order to enhance the chance of them returning and supporting us further in our main mission:  to protect our rhino herd and the species from poachers, and inevitably extinction.
The lodge is unfinanced. Income generated from accommodation bookings, safari tours, and eco-hunting is utilised to help cover the huge expense of feeding, caring, and 24-hour security of our rhino herd.
Rockwood is privately owned and receives no government funding.
The protecting of our rhinos is a personal passion project – with public benefits for (hopefully) generations to come.
Caring for 300+ Southern white rhinos and other wildlife is extremely costly and not viable for a private individual alone, without external assistance.
We would not be able to maintain our conservation efforts without visitors, volunteers, and contributions from equally passionate people like you.
HELP TO CONSERVE OUR RHINOS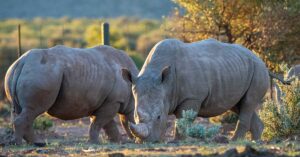 From a population of around 10 000 white rhinos and 600 black rhinos in 2010, the numbers are now down to approximately 3 549 white rhinos and 268 black rhinos. Most rhinos were poached in Kruger National Park. If this trend continues, the entire rhino population currently protected by Kruger might be wiped out by 2030.
READ FULL ARTICLE »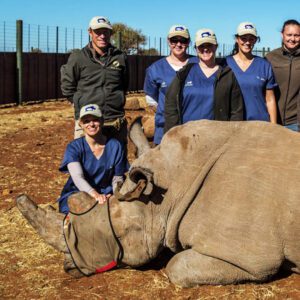 When considering volunteering projects abroad, it's essential to know what you're getting yourself in to. Supporting local projects gives you the chance to get to see a country from a different perspective – but it needs to be a safe and healthy environment. There are a lot of stereotypes about Africa, but what's the reality?
READ FULL ARTICLE »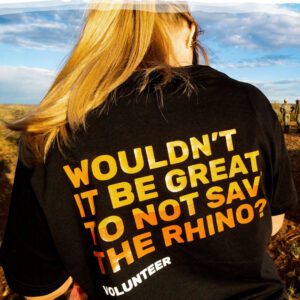 Rockwood owner, Wicus, and his teams of rangers are on guard 24 hours a day, 7 days a week to help protect rhinos. Health checks and collecting blood, milk and many other samples for research takes whole teams of research scientists, students, rangers and volunteers. You can help too by volunteering to work at Rockwood.
READ FULL ARTICLE »