One of the most important elements of the work we do to save the rhino is wildlife research. Without conservation scientists and veterinarians making breakthrough discoveries, we would not have achieved such success in conservation.
But there is more work to be done. If you are part of an organisation or university seeking animal research opportunities, we invite you to join us at Rockwood for onsite study. Together, we can lead the way in species prosperity.
Our reserve is located in the vast, untouched Northern Cape province of South Africa – somewhere close to Kimberley and Griekwastad.
Nestled between the Great Karoo and the Kalahari, on a pristine 12 000 hectare (30 000 acre) stretch of arid to semi-arid desert and bushveld, this is precisely the kind of habitat rhinos would have roamed for millennia.
Complementing our state-of-the-art security, we are also remote enough to be less easily accessible to poachers.
Our exact map-pinned location cannot be publicly advertised – for obvious security reasons. We will supply directions or arrange a shuttle service upon booking confirmation.
One of our most significant conservation research collaborations is with the Hemmersbach Rhino Force Cryovault project. Led by some of the world's top scientists, the project aims to create the largest genetic reservoir for Southern white rhinos in the world. Sperm, eggs and other genetic material of rhinos is collected, frozen and stored in a biobank for future use. These collections contribute to research in population genetics and assisted reproduction.

We are committed to learning all we can about rhinos and wildlife in general.
Our research projects include:
At Rockwood we hand-rear orphaned rhino calves.
We are still trying to fully understand the properties of rhino milk to ensure our rhino babies get the nutrition they need. So, we are looking at ways to improve the health of these orphans and the species in general.
RHINO GENETIC PRESERVATION
Rockwood aims to achieve healthy genetic diversity within the population of Southern white rhinos in South Africa.
We do this by obtaining and studying a detailed DNA profile of each of our rhinos. After this, we can select which males and females to breed, to create a diverse and healthy gene pool.
Rockwood isn't just home to our Southern white rhinos, but also other wildlife including giraffes.
One of our research projects studied the mating rituals of the giraffe. We were able to prove that when two bulls battle to mate with a fertile female, the dominant male achieves mating rights. This is known behaviour in other species, but has never been described in giraffes.
Apart from the obvious reason of working with one of our most majestic and scares wildlife species, at Rockwood, you'll have the support of rangers and willing volunteers who can assist with data capturing and infield sampling. 
You'll be able to work alongside skilled scientists and make use of our laboratory.
Witness groundbreaking discoveries in rhino conservation and be part of vital information exchange.
The education received here is invaluable to both students and experts seeking expansion of their knowledge base.
You will not only get the chance to study the Southern white rhino species, but also carry out behavioural, ecological, genetic, habitability and zoological research on a number of other threatened and rare species, such as the giraffe.
"I care deeply for these animals, so I want to do as much as I can with rhinos. It's a very interesting system they have here. They have good supervision over the rhinos with the bomas and the camps. It's about having more control."​
"Touching a rhino... It's something very few people in the world have experienced. For anyone who wants to get involved, this is the place to be. What Rockwood is doing is building a legacy to save what's left."​
COMFORTABLE ACCOMMODATION
Researchers are accommodated in our plain, yet comfortable, staff quarters (which can accommodate up to 12 volunteers and researchers). They have access to the rest of the lodge, outside of tourist times, which includes the private lounge and dining area, boma and fire pit, full bar and restaurant, on-site spa, gym, swimming pool, and curio boutique.
The lodge was privately built in an extended effort to attract visitors (tourists, researchers and volunteers alike) to our remote area – offering them a comfortable stay, in order to enhance the chance of them returning and supporting us further in our main mission:  to protect our rhino herd and the species from poachers, and inevitably extinction.
Shared Volunteer / Researcher Housing
Shared On-Site Farm House
Comfortable Staff Accommodation
Plain, Yet Neat & Comfortable Volunteer & Researcher Accommodation
Communal Lounge & Dining Area
Comfortable Areas To Relax After Work
On-Site Chefs
African Food Prepared Freshly to Your Liking
Spa & Gym
On-Site Spa & Gym Facilities
Boma & Fire Bowl
Night-Time Relaxation the African Way
Close-Up Game Viewing
Experience Private Game Viewing Up Close & Personal
Wildlife Interaction
Touch & Feed Our Rhinos, Like No-Where Else
Start by filling in the application form. We'll contact you with more details on the available research programmes, in order to find a suitable placing for you.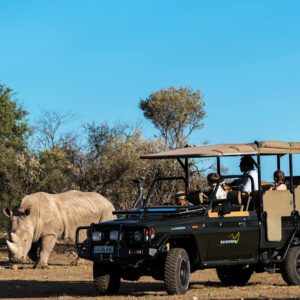 So you've decided on South Africa for your next adventure, but the offers and ads that Google spits out from travel websites, airlines and tour companies are quite overwhelming. We might be able to help with some inside advice. Read on to find out how to choose the right travel agency while avoiding tourist traps.
READ FULL ARTICLE »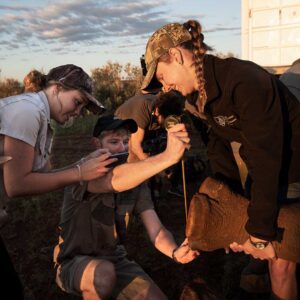 Using your gap year to volunteer for a cause in need is a sure way to find out who you really are. As Mahatma Gandhi said: "The best way to find yourself is to lose yourself in the service of others." So, where do you want to lose yourself? With 1 million species now critically endangered, our wildlife needs all the help it can get.
READ FULL ARTICLE »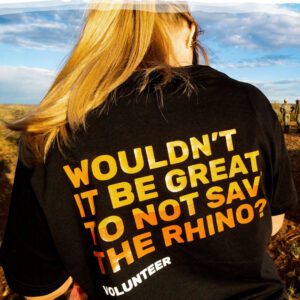 Rockwood owner, Wicus, and his teams of rangers are on guard 24 hours a day, 7 days a week to help protect rhinos. Health checks and collecting blood, milk and many other samples for research takes whole teams of research scientists, students, rangers and volunteers. You can help too by volunteering to work at Rockwood.
READ FULL ARTICLE »
HELP TO CONSERVE OUR RHINOS