One of the most rewarding ways to help save the rhino is by giving your time and working in close contact with these extraordinary animals.
To be a conservation volunteer at Rockwood, you'll need to submit an application and contribute $2,000.
This fee covers the costs of your two-week stay (accommodation and food) and goes towards helping us with maintenance.
It's a once-in-a-lifetime experience you'll never forget. Plus, you'll have played a firsthand role in preventing rhino extinction.
WATCH OUR WILDLIFE VOLUNTEERS IN ACTION
Where Rockwood is located:
Our reserve is located in the vast, untouched Northern Cape province of South Africa.
Nestled between the Great Karoo and the Kalahari, on a pristine stretch of arid to semi-arid desert and bushveld, this is precisely the kind of habitat rhinos would have roamed for millennia.
Our exact map-pinned location cannot be publicly advertised – for obvious security reasons. We will supply directions or arrange a shuttle service upon booking confirmation.
"I care deeply for these animals, so I want to do as much as I can with rhinos. It's a very interesting system they have here. They have good supervision over the rhinos with the bomas and the camps. It's about having more control."​
"Touching a rhino... It's something very few people in the world have experienced. For anyone who wants to get involved, this is the place to be. What Rockwood is doing is building a legacy to save what's left."​
COMFORTABLE ACCOMMODATION
Volunteers are accommodated in our plain, yet comfortable, volunteer quarters (which can accommodate up to 12 volunteers and researchers). They have access to the rest of the lodge, outside of tourist times, which includes the private lounge and dining area, boma and fire pit, full bar and restaurant, on-site spa, gym, swimming pool, and curio boutique.
The lodge was privately built in an extended effort to attract visitors (tourists, researchers and volunteers alike) to our remote area – offering them a comfortable stay, in order to enhance the chance of them returning and supporting us further in our main mission:  to protect our rhino herd and the species from poachers, and inevitably extinction. We can accommodate 12 volunteers in total.
Shared Volunteer / Researcher Housing
Shared On-Site Farm House
Comfortable Staff Accommodation
Plain, Yet Neat & Comfortable Volunteer & Researcher Accommodation
Communal Lounge & Dining Area
Comfortable Areas To Relax After Work
On-Site Chefs
African Food Prepared Freshly to Your Liking
Spa & Gym
On-Site Spa & Gym Facilities
Boma & Fire Bowl
Night-Time Relaxation the African Way
Close-Up Game Viewing
Experience Private Game Viewing Up Close & Personal
Wildlife Interaction
Touch & Feed Our Rhinos, Like No-Where Else
Why choose to volunteer at Rockwood:
Unlike most rhino sanctuaries that minimise human and rhino contact, Rockwood encourages interaction. Our 300+ rhinos are like our children and we want you to love them too.

We also want to educate our visitors about our unique, pro-active conservation approach, which has seen more than 160 calves born on our reserve so far.

You'll work alongside professional rangers and researchers, perform daily chores, and leave a wiser, lifelong wildlife warrior – who can proudly state they have personally helped to save the rhino.
What it takes to be a Rockwood Volunteer:
A DAY IN THE LIFE
OF A CONSERVATION VOLUNTEER
VOLUNTEERS PACKAGE
ACCOMMODATION, MEALS & RHINO EXPERIENCE
$
2,000
ON BOOKING
Luxury, 5-Star Accommodation

Excludes Transport Flights to South Africa

Excludes Transport to Rockwood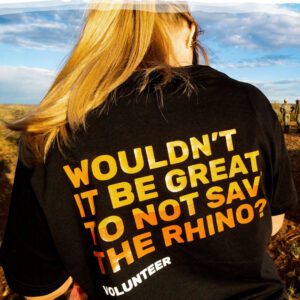 Rockwood owner, Wicus, and his teams of rangers are on guard 24 hours a day, 7 days a week to help protect rhinos. Health checks and collecting blood, milk and many other samples for research takes whole teams of research scientists, students, rangers and volunteers. You can help too by volunteering to work at Rockwood.
READ FULL ARTICLE »
HELP TO CONSERVE OUR RHINOS
Start by filling in the application form. If you are successful, we will conduct a telephonic interview, during which we will explain the fee in more detail and answer any questions you may have – and offer you an official invitation to Rockwood.
YOU, OUR VISITORS, PARTNERS & SPONSORS MAKE OUR CONSERVATION EFFORTS POSSIBLE.