We're continually looking for new ways to support rhino conservation. So when South Africa's leading grill and outdoor cooking company, Megamaster, approached us about a possible collaboration to get involved in helping rhinos, we were super excited.


HOW IS MEGAMASTER HELPING RHINOS ?
Megamaster is helping raise awareness of the plight of Africa's rhinos while generating much-needed funding for Rockwood with an innovative new eco-friendly firelighter. The key ingredient of which is our rhino's dung!
With every fire lit using a Rhino Ball Eco-Firelighter, you'll help us in our mission to save one of South Africa's most iconic species.

DONATE TO HELP SAVE AFRICA'S MOST VULNERABLE WILDLIFE
On average one rhino is poached every 8 hours in Africa. Which is why we at Rockwood are doing everything we can to save the species from extinction. But looking after over 300 rhinos is no small feat. We need your help.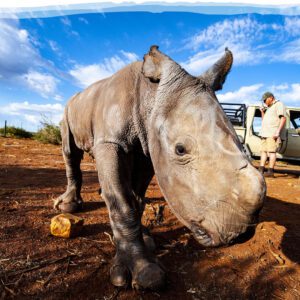 No matter where they are in the world, you can join the fight to save the African rhino. Apart from visiting us as a tourist or volunteer, you can sponsor a rhino or donate towards their care. We provide a detailed breakdown of what it takes to care for rhinos, so you know that your donation goes directly towards conservation.
More »