Deciding to volunteer abroad is a big step. You choose to spend your time on a cause instead of a vacation with your friends or family. Why is it such a big decision, if you're only there for a brief time? Trust me when I say, volunteering is genuinely life-changing. Volunteering means putting yourself and what you want aside and instead focus on the needs of others, animals or communities. So, you should find a cause you care about sincerely.
Volunteering for the first time and travelling to a country you've never visited before, there are a few things to consider before you depart. We compiled seven considerations before choosing a project.
1)  GO BEYOND YOUR COMFORT ZONE
What can you expect when travelling to a foreign country, far from everything you know? Expect to feel out of your comfort zone. Whether it's a language barrier or ordinary culture shock, at some point, you will feel out of place and long for the familiar. It's completely natural. Keep an open mind and learn about the people and cultures will help. You'll also realize no matter where anyone is from in the world, we are all more alike than we are different. Plus, locals always appreciate the effort even if you get it wrong and will go out of their way to help you if they can.
When looking for the right project, think of how you would like to spend your time abroad. Where does your passion lie? Your passion will sustain you throughout your stay and get you through those tough emotional or physical days.
If, or when, you find yourself out of your comfort zone and wishing you were somewhere else, focus on why you chose to volunteer.  Remember it isn't about you. It's not even about the project or the volunteer next to you. It's about the people, animals and community who benefit from your efforts.


2)  ONE SMALL STEP FOR MAN, ONE GIANT LEAP FOR HUMANKIND
So you want to do something meaningful. You dream of making the world a better place. Then again, what could you as an individual possibly do? There are too many people and animals in need. You are capable of more than you think! While it might feel like you're alone and can't make a significant impact, keep in mind together, individuals create change. If everyone did something, even small, it would snowball into an enormous effect on this planet. Until that day, lasting change is slow until it's suddenly here.

3)  VOLUNTEERING ABROAD IS NO WALK IN THE PARK
Volunteering abroad is not a vacation. You're not there to be the envy of your Instagram followers. Even though it is a nice bonus and a great way to save memories. You're there for those in need, and if you're going to help, you need to work. It can be hard work, but it's the most rewarding work. Whether it's children or animals, you'll see the gratitude in their eyes, and you'll know every drop of effort is worthwhile. Your time won't feel like work when it gets tough, and you'll love every second.

4)  LOGISTICS ARE KEY
Planning applies to every trip abroad, but when you have a project counting on your help, preparation is even more crucial. Make sure to check visa requirements ahead of time. Most visitors can stay in South Africa for 90 days without a visa, but anything exceeding that requires a specific volunteer visa.
Do your research ahead of time since the application process can take up to a few weeks. You'll also need a valid passport, with enough free pages.
Something else to consider is the cost of volunteering. It may surprise you, but volunteering isn't free. Organizations who take on volunteers can't afford to pay, house and feed them. Usually, they're aren't for profit or receive government funding. Whatever income is generated is used to continue the work they do. Your fees, if you want to call them that, only cover the electricity, water and meals you might use. Any extra should cover transport and general upkeep of the facilities. Combined with your contribution of skills and time support their efforts and allow them to keep doing the work they do. Also, booking through a travel agency, there are service fees.
At Rockwood, we're transparent about how the money we receive is spent. We use every penny on the welfare of our beautiful rhinos.


5)  SAFETY FIRST
Since you're likely travelling by yourself and to a destination you've never been to before, you should look up any safety concerns in the country you're visiting.
Luckily Rockwood is far from the busy, dangerous cities. Our remoteness, along with our 24-hour security means you're as safe as you could ever be anywhere in the world .

6)  ARE YOU VISITING OR INTEGRATING?
If you're only volunteering abroad for the bragging rights, maybe reconsider. Book yourself a fantastic, exotic getaway instead. We hope you love every moment. When volunteering your time is not your own, and it's not about you or any individual. You're part of a team. It's about the cause.
At Rockwood, the staff have dedicated their lives to saving the Southern White Rhino and wildlife in general. We're more like family than work colleagues. We look out for each other. We all share the same goal and are passionate about our work and daily tasks.
Rockwood is one of the only conservation projects working with endangered species that take volunteers. As a volunteer, you're not just a visitor. You're a conservationist fighting to save majestic gentle giants from being wiped out.


7)  THE HASSLE IS WORTH IT
If you hadn't picked it up yet, yes, volunteering at Rockwood can be hard work. Living and working miles from modern convenience can be jarring for some. Don't let it deter you. Helping others and seeing small changes directly as a consequence of your actions gives you the same feelings as indulging in fine chocolate.
It makes you happy. Volunteering abroad is also deeply rewarding and stays with you. Chocolate, on the other hand, makes you feel guilty after and adds to your fat stores. Seeing how much of an impact you can make after a few weeks at Rockwood has a profound effect on people's view of themselves and their own lives. 
What reward is better than knowing you've helped a species fight extinction?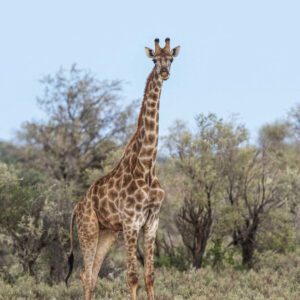 Africa's giraffe populations are quietly diminishing. Known as the "silent extinction", 40% of giraffes have vanished since the 1980s. Where once the continent was teeming with these graceful giants, only 68 000 now remain. Like most other species, habitat loss, poaching and the effects of civil unrest threaten their survival.
More »