Have you ever felt like you personally needed to do something to protect rhinos from extinction? You're not alone. And now you can. Help us save this endangered species.
MONEY ALONE CAN'T SAVE AN ENDANGERED SPECIES
Rhinos are an endangered species and rhino extinction isn't a problem you can simply throw money at and hope it solves itself.
In fact, wildlife conservation foundations that help protect vulnerable species, like the rhino, all around the world, collect millions in funding. But only a fraction of the funds raised actually go to the protection of wildlife. Most of the funds are spent on raising more funds. Plus, administration costs for running a large international organization, salaries and advertising don't come cheap.
You can't help but ask why those foundations really exist. Whatever amount does end up caring or protecting endangered animals isn't enough. It hasn't stopped the bleeding yet, and it probably won't. At Rockwood we are very open about what we do with our donators money, click here to discover where the money goes and how it helps us at Rockwood protect endangered species. 
Watch to find out more about Volunteering at Rockwood.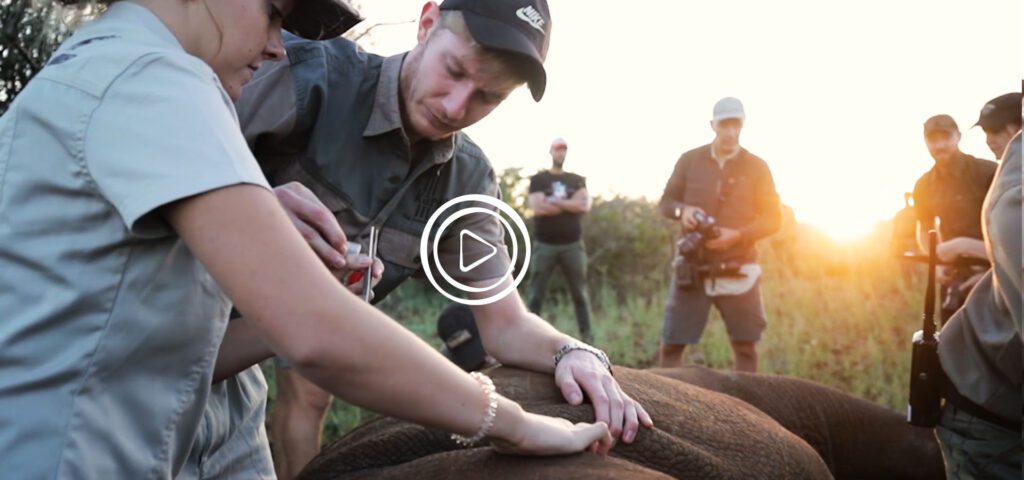 SOMETHING HAS TO CHANGE
At Rockwood, we do whatever it takes to protect our animals. Which means doing things differently. And it's not just Rockwood's aggressive conservation that is different from other conservations. Although our intensive strategy does drive up the cost of looking after each rhino, the strategy works.
Rockwood currently protects and cares for over 300 rhinos, 100 of which were born at Rockwood – making us one of the largest rhino conservation projects in the world. We are constantly fighting for the endangered species to stray far away from extinction.
VOLUNTEERING AT ROCKWOOD, SOUTH AFRICA
As mentioned above, money alone isn't going to save the rhino. Rockwood is one of the only rhino conservation organizations that allow scientists and citizen scientists, volunteers, students and guests to visit and help where they can and learn what it takes to save a species.
Feet on the frontlines are needed if the rhino is going to have any hope. Keeping our rhinos safe and in good health means a lot of hard work by a lot of passionate, dedicated people.
Wicus and his teams of rangers are on guard 24 hours a day, 7 days a week. Even with the latest in security measures, it's the men and women at Rockwood who keep our rhinos safe from harm and well cared for. Health checks and collecting blood, milk and many other samples for research takes whole teams of research scientists, students, rangers and volunteers.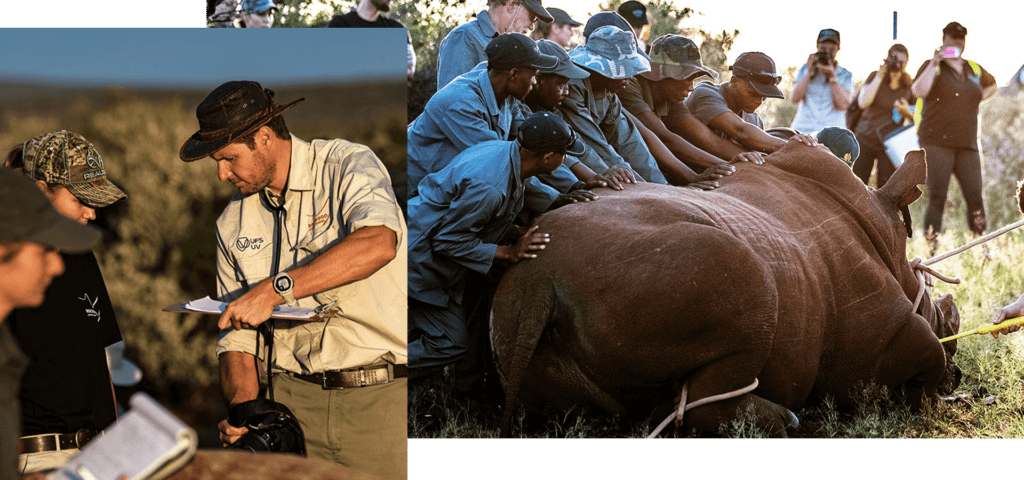 "In the light of what humanity is doing to them, it affects people deeply."
WHAT IS WILDLIFE VOLUNTOURISM IN AFRICA?
Voluntourism or volunteering tourism in Africa is a recent trend to come out of eco-tourism.
The term describes travellers who aren't interested in the typical tourist trappings on offer and want to offer their skills, time and energy to causes they're passionate about. It's using vacation days to volunteer and do a bit of good too.
Voluntourism is a great way to broaden your worldview and gain an understanding of issues facing people or wildlife in the country you're visiting. Rockwood runs a special volunteer program for anyone who wishes to help them in their mission to save the African rhino.
Volunteering at Rockwood is an inspiring, educational experience that will be as rewarding as it is world changing.
Some voluntourism programs can last anywhere from a couple days, weeks, to a few months, or even a year. At Rockwood, we're flexible and volunteers aren't required to have any special skills or experience in environmental conservation. There is however a screening process and background check for security reasons. Rockwood is a secure location and it's only kept that way for the safety of the rhinos and people who work there.
Rockwood's experienced staff, vets and researchers, oversees the projects and daily rhino upkeep so volunteers are never left to their own devices or out of their depths.
ROCKWOOD WILDLIFE VOLUNTEERS ASSIST WITH ACTIVITIES LIKE:
Preparation and feeding rhinos, including calves
Daily monitoring and patrolling rhino camps with mounted rangers
Treating sick rhinos
Routine rhino population management like DNA sampling, dehorning, relocation and more.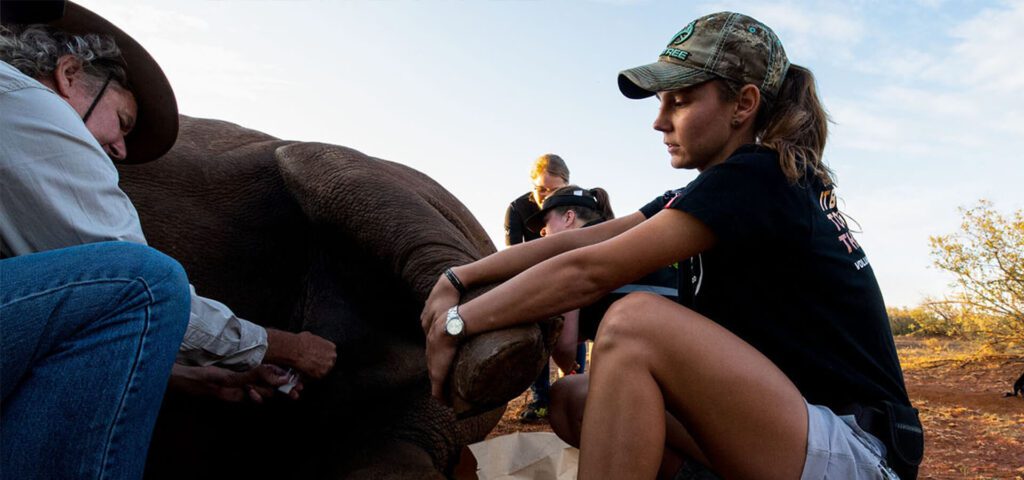 SAVING AN ENDANGERED SPECIES IS A LIFE-CHANGING EXPERIENCE
Not only is working with these majestic creatures a once-in-a-lifetime experience for most, it's also a life changing experience.
Everyone at Rockwood shares similar stories of their first encounter with rhinos. Being close enough to touch their weathered hide, hear their breathing, feel their presence and realise just how gentle they are, despite their intimidating size. The playful calves touch your heart as much or even more than a cute puppy would.
In the light of what humanity is doing to them, it affects people deeply. An up close encounter with these gentle giants changes something inside of you, for life.
If you or someone you know has a passion for nature, wild animals and want to help save a species from extinction while having an experience like no other, contact us here.